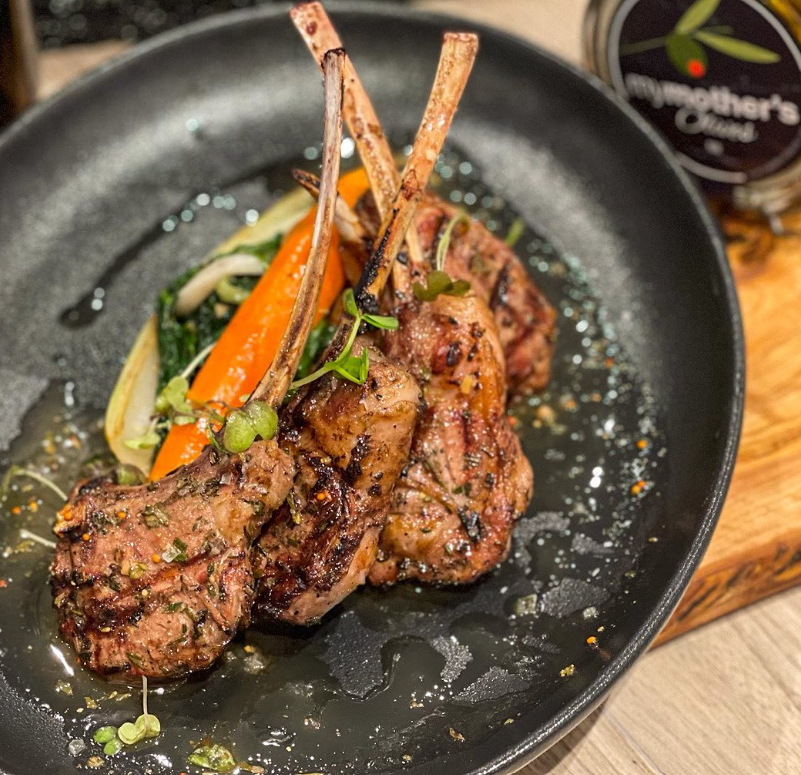 10 Greek Restaurants To Visit in Toronto
As a lover of Greek cuisine, I am always on the lookout for the best Greek restaurants in Toronto. From hearty souvlaki to crispy spanakopita, Toronto has many restaurants offering authentic Greek dishes that will tantalize your taste buds.
Without further ado, here are the top 10 Greek restaurants in Toronto:
Mamakas Taverna – 80 Ossington Ave.
Located in the trendy Ossington area, Mamakas Taverna is known for its elevated and rustic take on Greek cuisine. Their menu features a variety of traditional and modern dishes. Sit in the dining area or the bar, but make sure to book your reservation well in advance as the small space gets filled quickly. Enjoy the flavours of Lamb Shakshuka, and delicious spanakopita or have a little bit of everything with their Prix-Fixe menu, which includes 3 courses and a glass of wine.
Mezes – 456 Danforth Ave.
Mezes is a family-owned restaurant located in the heart of Greektown, busy with a lively vibe and a 2-level dining room. The place is meant to share and is all about family-style eats. It has an authentic feel, and its menu features a range of platters from meats to seafood and even a healthy selection of vegetarian options. If you are looking for a la carte, their Ortikia Dinner(quail), Poikilia Skaras(lamb chops and chicken) or Tirokafteropita is a must.
Santorini Estiatorio – 288 John St.
An elevated Greek restaurant is well known for its mesmerizing old world décor, fresh blues and whites like Greece herself. They are an elevated modern Greek restaurant whose motto is to do something with soul, creativity, and love. The menu really emulates the motto with its traditional but flavourful options. Start with their Spanakopita dips, baby back ribs, Lavraki Mediterranean seabass, or fresh lobster pasta.
Myth – 522 King St W.
Myth is the hottest new restaurant on King St., with beautiful décor and a Mediterranean vibe thrusted into the modern era. They serve traditional Greek dishes with an upscale twist, and have been known to really bring the entertainment at their dining room, patio and full bar. They have an extensive menu, and if you are looking for the best items, then the Paidakia( Australian Lamb chops) are a must-have. Their slow-cooked lamb shoulder, Salt crust, Baked Fish and Lobster are also great items to try!
Update: Myth, unfortunately, has burned down and is now being rebuilt.
https://www.cp24.com/news/rebuilding-is-on-the-horizon-downtown-restaurant-closed-until-further-notice-after-suspicious-fire-1.6292446
Pantheon Restaurant – 407 Danforth Ave.
Located on the Danforth, Pantheon Restaurant is known for its traditional Greek dishes and live music. The restaurant has a warm and welcoming atmosphere, and some of their top dishes include the Mousaka, Roast Lamb and their Skaras Platter, big enough for 3-4 meat lovers.
Estiatorio VOLOS – 133 Richmond St. W
Estiatorio VOLOS is a high-end Greek restaurant located in the financial district that exudes class and quality. The restaurant is known for its upscale atmosphere and modern take on Greek cuisine. Some must-have dishes are their Tiger Prawn Saganaki, Fresh Spiced Lamb Sausage and their Fisherman's Stew.
Athens Restaurant – 534 Danforth Ave.
Athens Restaurant is a family-owned restaurant located in Greektown. More for takeout than dining in, that should not deter you from trying the best lokamoudes in the entire city! They have also delicious easy takeaways that will not disappoint, like their pork souvlaki, lamb keftee, and eggplant fritters.
Christina's on Danforth – 492 Danforth Ave,
Christina's on the Danforth is a family-owned restaurant that has been serving authentic Greek cuisine for over 20 years. The restaurant has a warm and welcoming atmosphere with some killer entertainment year-round. If you are looking for something unique, you have to get the Greek-style Chicken Cordon Bleu, Kontosoulvi slow-roasted pork, or their gigantic meat platter for 2.
Megas Restaurant – 402 Danforth Ave.
Megas Restaurant has been serving authentic Greek cuisine since 1977. The restaurant has an older vibe combined with a friendly and welcoming staff. The restaurant is also known for its friendly and welcoming staff. Some top dishes are their Seafood or Mixed grill platters, their lamb chops or their Biftekia.
Petros 82 – 299 Adelaide St W.
Petros82, situated in Toronto's Entertainment District, is downtown's newest premium, casual, authentic Greek dining experience! Bringing you delectable flavours of the Aegean Sea and the custom of Philoxenia to your table. You have to try their Chilled Seafood Tower, their Beef Kefte, and their seafood Tigania.
If you're a fan of Greek cuisine or looking to try something new, these top 10 Greek restaurants in Toronto are a must-visit. So, grab your friends and family, and get ready to indulge in some of the best Greek food Toronto has to offer.
Get the latest news sent weekly
to your inbox.
I want to receive emails from Schmooze Blog promotional partners and advertisers