AT A GLANCE
CHALLANGES
Create Awareness to use the Healthier Bison Meat
Change Perception of Gamey Meat
Increase Sales in Ontario
Increase Followers on IG
RESULTS
More Recognizable Brand
Social Media Platforms Growth
Successfully Targeted Healthy Eaters in Ontario.
Increased Sales by 50%
Noble Premium Bison is a bison meat product company with ranch-raised Canadian bison by Canadian producers. Offered in supermarkets across Canada and Europe, Noble is known for their sustainable practices and healthy bison steaks.
After four years, Noble's sales steadily increased in all their markets except Ontario. Unlike in the Canadian West, the people of Ontario had a stigma regarding cooking and eating bison. They falsely thought it was fatty and gamey meat. Kelly Long worked tirelessly to change that messaging but hit a wall, "We tried everything to change people's minds, but the overwhelming feedback we got was that unless they tried it, they just did not know any better," she said. When Schmooze Foods presented the Bison Awareness campaign, Kelly jumped at the chance to try something new.
We took on the challenge of raising awareness about bison meat with a three-prong game plan. The first was to create mesmerizing content that Noble could add to their website with professional photography and recipes. The second was to create an influencer campaign with the best food creators in Toronto, where they would use Noble's products, develop their content, and post their results to their followers.
The third was to spread awareness on all SM platforms through a celebrity influencer. We set up and executed a commercial that ran for 6-months with a MasterChef Canada judge and restauranteur. This boosted Noble and its brand across Canada.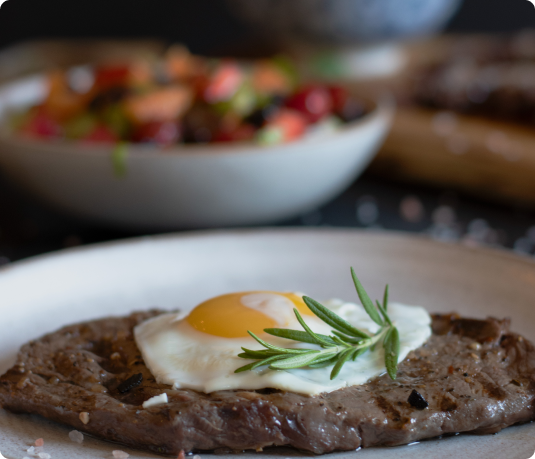 Increased Awareness to Bison in Ontario
Both consumers and restaurants have increased their consumption of bison meat products using Noble. The awareness about bison meat was created by focusing on it's health benefits compared to regular beef.
Increased sales in Ontario by 50%
Noble's sales in Ontario increased by 50% in the short span of a couple of months. They have become a market leader for bison products with their products in the likes of Costco, Sobey's, and Metro.
Instagram Engagement & Followers Increased by 50%
Facebook & Instagram followers have increased by 50% in 6 months.
Noble's brand became more recognizable and widely used for healthy food shoppers.

"Leo and his team have been a pleasure to work with, from our Bison Awareness campaign to the countless photoshoots. He always keeps us informed, brings creative and delicious ideas, and executes with professionalism and timeliness.
We are much more robust in Ontario since the influencer campaign and the Master Chef commercial Leo set up. We are even now selling our product in Costco and Metro."
Owner & Operator of Noble Premium
Bison