AT A GLANCE
CHALLANGES
Build Their Social Media profiles and Branding
Raise awareness through SMM & PR.
Increase Business Opportunities
Increase Sales
RESULTS
Created Awareness on Multiple Platforms
Social Media Platforms Growth
Create News Partnerships
Google SEM increased by 70k
Sales Increased
The Smoke Stop BBQ is a food truck and catering company specializing in smoked meats and BBQ. They are a modern BBQ combining Canadian and Memphis flavours together for their menu. They operate across Toronto and the GTA
As a brand-new restaurant and food truck, The Smoke Stop BBQ needed direction toward its marketing strategy to build itself as a brand and create a digital footprint. Owner John Poulis struggled with marketing and bringing in customers and was looking for someone to restrategize his brand. " We had some customers here and there, but we didn't have no branding or presence; we didn't even have a website," he said. He knew that social media & PR would help increase his sales and catering opportunities. When Schmooze PR presented itself as an all-in-one marketing agency, John jumped at the chance to build a digital brand with them.
First, we had to create a digital brand identity for The Smoke Stop BBQ before using multiple strategies to raise awareness about the restaurant. We worked with Mr. Poulis on the menu and decided to make it #canadasfavouritebbq to enhance the messaging of their Canadian roots and solidify the brand. We then started with an influencer campaign, photography, videography, and brand assets, including posters, business cards, and a truck wrap. To get catering inquiries, we designed and built their website and created Google Ads campaigns successfully. The Smoke Stop BBQ quadrupled its catering inquiries and events from the year before, and its overall sales increased by 400%.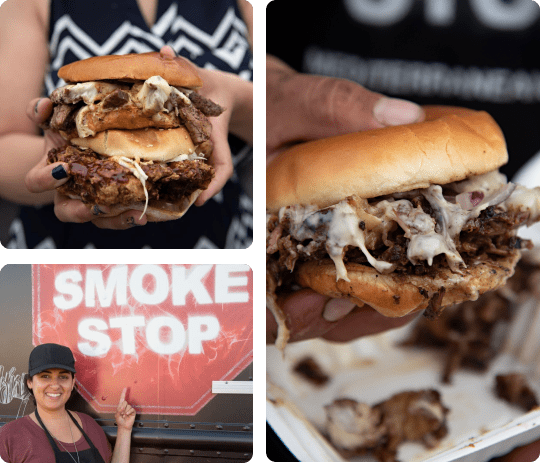 Instagram Grew to 2k Followers in 3 Months
We created a multiple brand awareness strategy through influencer marketing, PR, and photography, to build The Smoke Stop's social media presence through style and professionalism.
Google Searches & Action increased by 50K
In 3 months Google searches and Actions raised by an average of 70k people performing 500% higher than before.
Increased Transactional and Event Catering Sales
The Smoke Stop increased its weekly sales from 4k to 12 k a week due to our marketing strategies and brand awareness. They had a 15% customer retention rate on a weekly basis at their Richmondhill location.
Created Partnerships with MTCC and Event Organizers
Through multiple brand awareness strategies, we secured an event spot with MTCC doing some of the most significant events in Toronto every year.
Built partnerships with event organizers to be part of exclusive events like Pride, TIFF, VELD, and many more.
"Leo is much more than our marketing manager; he is part of our team. Our success is his success and vice versa. Leo handles everything for our business, social media, and our website. He even connects us to event organizers to get us into hard-to-come-by events like VELD, TIFF, Car Show, Fan Expo, and Comic-Con. When we started with Schmooze PR, we had a few hundred followers with terrible images, no social media presence, and no website. Leo built our brand to a professional level we would never have dreamed of achieving. No matter what we need, Leo finds a way to get it done, keep us organized, and help us with the execution."
Owner & Operator of The Smoke Stop BBQ